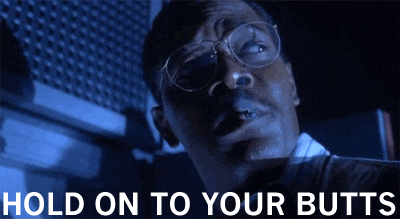 That's really all I can say to you, Brisbane. There have been more than a few rumblings and the cryptic-iest of cryptic clues all week about the impending lineup for brand new Brisbane festival FOMO. Toss all your speculation and your conspiracy theories aside immediately, because the official, brand-spanking inaugural FOMO festival lineup is upon us as of right now.
If you haven't seen it you might want to sit down before going any further, and if you had socks then they're about to get knocked the fuck off.
Los Angeles producer extraordinaire and lord of the trap RL Grime is on his way to drop bangers on Brisbane. He sold out his earlier 2015 shows in Sydney and Perth in under 24 hours so you can expect the floodgates to open real wide when tickets to this go on sale.
Australian disco electro duo Flight Facilities will be there too. Their debut album Down To Earth is still buzzing in our ears almost a year after it dropped in 2014 and they played a set at Splendour that was nothing short of breathtaking.
Jamie xx will be visiting from across the pond too. The UK producer has dominated the charts (going all the way to number two here in Australia) and the airwaves all dang year after releasing his sophomore album In Colour in late May. Best believe there's gonna be good times.
German producer and DJ Boys Noize joins the list as well. Money may not buy you happiness but it can sure as hell buy you a FOMO ticket to catch this purveyor of some of the finest electro house around up close and personal.
Shut. It. Down! Skepta, one of the absolute biggest names in the UK grime scene right now, is touching down all the way from Tottenham. Already announced for Perth's Origin NYE festival as well as a headline show at The Corner Hotel in Melbourne, you should be spit-polishing your Airmax 95s already for this one…
Straight out of LA, that's Mr. Carmack to you. The young producer has worked with some of the biggest names in hip hop, with a Midas touch on damn near anything he remixes, expect to dance yourself stupid at his FOMO set.
Toronto trap trio Keys N Krates are bringing their unique live show to FOMO as well. When they say live, they mean it, using only drums, keys, turntables and live sampling to bring you one of the most authentic electronic experiences you can get.
Enjoying an absolutely immense breakout year is Zimbabwean-Australian MC Tkay Maidza. She's winning over new fans everywhere she goes, including sets at Laneway and Splendour In The Grass this year that blew everyone right away.
Rounding out this massive lineup is the multitalented Anna Lunoe, who has been a globetrotter the last several years, enjoying slots at mega-festivals like Coachella, Lollapalooza and TomorrowWorld. Club menace Benson will be there on the day too trying his damndest to blow up the sound system and cause as much havoc as possible and last but definitely not least is Brisbane-based producer and winner of the Inthemix 2014 Undiscovered Artist Of The Year UV Boi فوق بنفسجي .
Did I mention that this entire lineup is to take place on but one stage. Meaning no such thing as clashes…
The stage in question is Brisbane's Riverstage. The date you need to circle is Saturday, January the 9th 2016 and the other date you need to circle more immediately is tomorrow, Friday the 18th of September when tickets go on sale from 2pm at FOMOfestival.com.au. Y'all don't want to miss it now, this festival isn't called FOMO for no good reason.