Ladies and gentlemen, it's business time.
New Zealand musical comedy duo Flight of the Conchords sent the whole world into a into a flurry of excitement last month, when their long-awaited return to the stage was announced. The pair revealed that they would be performing at Newport Folk Festival in Rhode Island this July. Now, the duo comprised of Jemaine Clement and Bret McKenzie have announced a complete USA tour – and while that doesn't include Australian dates, it does come along with the amazing news that new material will be heard along the way.
Titled the Flight of the Conchords sing Flight of the Conchords Tour, fans can expect to hear their first new material since 2009's I Told You I Was Freaky.
"I'm thrilled to get back on the road with over half the original band," said McKenzie in a press release.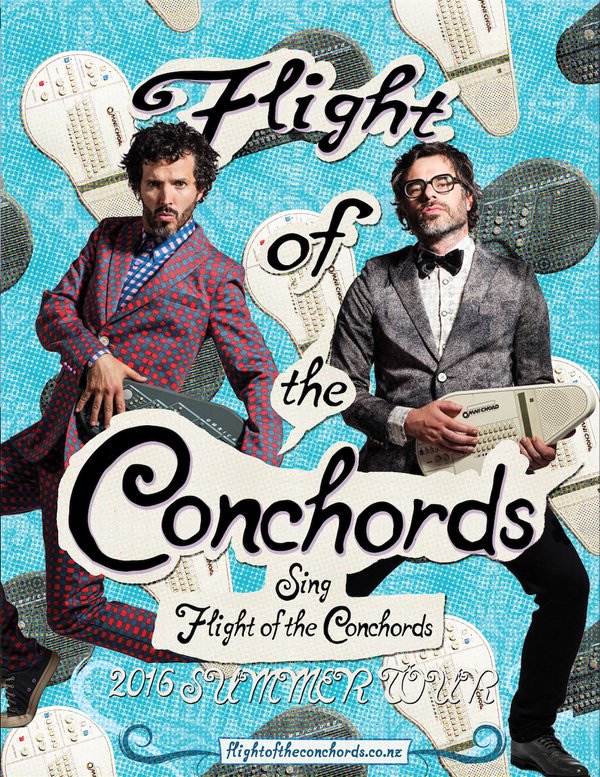 The tour is being presented by non-profit organisation Global Citizen, dedicated to ending world poverty. Senior Manager Amy Freeland explains, "Offering two tickets to each show on the upcoming "Flight of the Conchords sing Flight of the Conchords Tour" will engage and motivate Global Citizens across the U.S. to take action to end extreme poverty by 2030."
Fingers crossed that a complete new album is on its way soon – and if we're really lucky, perhaps even a new string of TV episodes!
For those across the pond, dates can be found below, and tickets and more information can be found here.
Flight Of The Conchords Tour Dates

Jun. 11 – Cleveland, OH – State Theatre
Jun. 12 – Philadelphia, PA – Mann Center for Performing Arts
Jun. 13 – Washington, DC – Wolf Trap Filene Center
Jun. 14 – Columbus, OH – Palace Theatre
Jun. 16 – Detroit, MI – Fox Theatre
Jun. 17 – Minneapolis, MN – Orpheum
Jun. 18 – Milwaukee, WI – Riverside Theatre
Jun. 19 – Chicago, IL – Pritzker Pavilion
Jun. 22 – Redmond, WA – Marymoor Park
Jun. 23 – Vancouver, BC – Orpheum
Jun. 24 – Portland, OR – Keller Auditorium
Jun. 27 – San Francisco, CA – The Masonic
Jul. 01 – Santa Barbara, CA – Santa Barbara Bowl
Jul. 02 – San Diego, CA – Cal Coast Credit Union Open Air Theatre at SDSU
Jul. 03 – Phoenix, AZ Comerica Theatre
Jul. 05 – Morrison, CO – Red Rocks Amphitheatre
Jul. 07 – Kansas City, MO – Starlight Theatre
Jul. 09 – Austin, TX – Bass Hall
Jul. 11 – New Orleans, LA – Saenger Theatre
Jul. 12 – Atlanta, GA – Chastain Park Amphitheatre
Jul. 14 – Nashville, TN – Ascend Amphitheater
Jul. 16 – Boca Raton, FL – Mizner Park Amphitheatre
Jul. 17 – St. Augustine, FL – St. Augustine Amphitheatre
Jul. 18 – Cary, NC – Koka Booth Amphitheatre
Jul. 22 – Newport, RI – Newport Folk Festival 2016 (Fort Adams State Park)
Jul. 23 – Boston, MA – Blue Hills Bank Pavilion
Jul. 24 – New York, NY – Central Park Summerstage
Jul. 27 – Los Angeles, CA – Greek Theatre
Image: Matt Grace