James Blake's album is coming out today.
Yes, you read that correctly. The Splendour in the Grass headliner will be releasing The Colour In Anything at midnight GMT. That's 10 am Sydney time.
As he so often does, Blake appeared overnight on BBC Radio 1 with Annie Mac, where he played new music and made the announcement we have been waiting three years to hear. The album is his first full release since Overgrown in 2013.
Blake shared two new songs, on Mac's show: Radio Silence and I Need a Forest Fire, a long-awaited pairing with Bon Iver's Justin Vernon. The two previously collaborated as Fall Creek Boys Coir, which we heard on a mixtape Vernon dropped last year to promote his festival Eaux Claires. Radio Silence begins around the 1:25 mark and the beautiful I Need a Forest Fire can be heard at 12:05.
This news comes a week after murals appeared in London and New York, revealing the album title and gorgeous artwork, created by Sir Quentin Blake, fames illustrator for beloved children's book author Roald Dahl. Blake later tweeted the images, confirming that they were indeed the album details.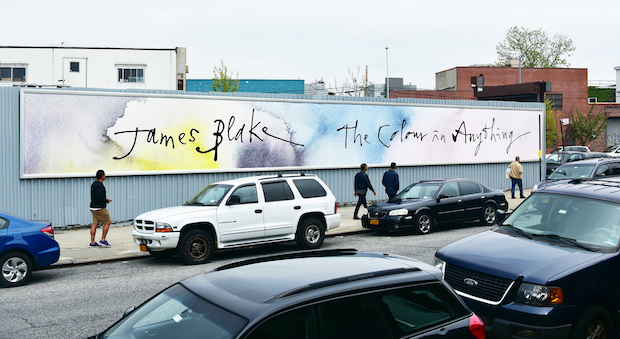 Blake has previously shared album tracks Modern Soul (which initially was set to be the album title), Timeless and RPG featuring UK rapper Trim.
As well as the collaboration with Justin Vernon, Blake recently re-confirmed that Kanye West will appear on the album too. I suppose we'll find out in a few short hours!
James Blake will be in town to perform at Splendour in the Grass this July. In conjunction, he will be performing headline shows in Sydney, Melbourne, Adelaide and Perth:
James Blake Tour Dates
Tues, 26 Jul: Hordern Pavilion, Sydney
Wed, 27 Jul: Margaret Court Arena, Melbourne
Thurs, 28 Jul: Thebarton Theatre, Adelaide
Sat, 30 Jul: HBF Stadium, Perth
Click here to see all Splendour in the Grass sideshows
UPDATE: James Blake has now released I Need a Forest Fire and Radio Silence on YouTube, as well as a third track titled My Willing Heart
Image: YourEDM