In the past, I've written Flashback Fridays harkening back to some of the lowest points in my life. Recently shitcanned by the girl I was in love with. An angry, snotty teenager. Friendless and alone and with terrible taste in music.
This week I decided to take myself back to what was one of the highest points of my entire life thus far and a record that really defined that time: Reasonable Doubt, the debut album from a man born as Shawn Carter before metamorphosing into the certified deity the world now knows as Jay-Z.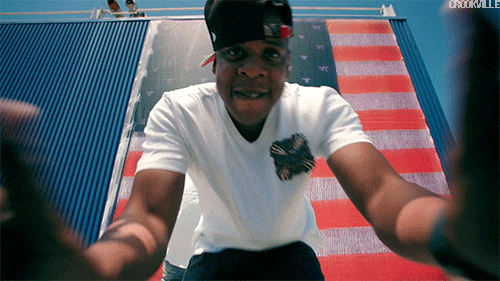 It was five years ago now that I first moved out of home. I'd lived away on campus at university for two years before that but when you're jobless and home every holidays it really doesn't feel like you're that independent. I had just turned 21 back then with my first full time job and decided enough was enough and that I needed just a little bit more freedom.
Into an absolute shit-tin of an old Queenslander I moved with two very good mates of mine, both of them committed hip-hop heads. Having previously been a shameless headbanger before transitioning into punk and indie rock, I found myself starting out on my own hip-hop trip purely because of them, beginning with the basics and jamming records by N.W.A, Snoop Dogg, The Notorious B.I.G. and 2Pac into my ears wherever possible, utterly enthralled.
Naturally in my search for tunes I had yet to discover and being one of those people who still bought CDs, when I saw Reasonable Doubt on the sale rack in a record store I grabbed it, figuring there wasn't much to lose for the stupid price of $9.99. My previous Jay-Z experiences had been losing my shit to his Linkin Park crossovers as a kid (but mainly because of Linkin Park if I can be shamelessly real) as well as listening to The Black Album and The Blueprint a whole lot. Biggie and the allure of New York City had grabbed me forever on Ready To Die, and Jay-Z and those two undisputedly classic albums occupied a perch on the same legendary East Coast hip-hop branch.
Reasonable Doubt wasted little time in quickly eclipsing those two as my favourite Jay-Z album of all time though.
Getting to my car and putting that record straight into the CD player I was floored from the word go. It's only a 20 minute drive from my parents' in suburban Brisbane where I shopped to where I then lived and leaving the shops with the album-opening Can't Knock The Hustle slithering out of the speakers, I found myself nodding along with a shit-eating grin. Mary J. Blige absolutely hammering the choruses home over those molasses-thick beats and Jay-Z's spitfire flow setting the whole thing ablaze, I had no choice but to keep driving around to finish the whole album; such was my objection to interrupting that first listen even for a second.
In connecting just one particular timeline of East Coast hip-hop, Public Enemy's It Takes A Nation Of Millions To Hold Us Back was an incendiary social commentary, lambasting the continued institutionalised racism keeping them and their fellow African Americans disadvantaged and in the streets. Biggie's Ready To Die was a record documenting one man's slow climb out of those streets, an album intermingling decadent highs with violent lows. By Reasonable Doubt in 1996 though, Jay-Z was a man celebrating his place high above the kind of squalor and despair that his more established contemporaries had made careers rapping about.
Where Public Enemy had brought the noise and fought the power, where The Notorious B.I.G. went from suicidal thoughts and an adolescence selling crack to getting paid and living large, Jay-Z (no stranger to street life in New York City as a young man himself) now reaped the benefits of what the former had fought their way out of, coming in sipping Cristal and driving Benz's from the start, his cup figuratively 'runneth over with hundreds'. He was coming into the game with Reasonable Doubt already on top.
It's a record of absolute personal triumph and it felt like it was speaking to me, albeit very indirectly.
At the time I first heard Reasonable Doubt, I felt like I was going through my own personal triumph- moving out of home, largely looking after myself well, partying every week with friends and having an absolute blast that seemingly had no end. It was the first time in years I'd been properly single and I couldn't have been happier.
We moved out of that shitbox first house to some much nicer digs closer to the city. We had a huge driveway and I bought a basketball hoop to put at the top of it, having found my NBA team (I landed on the utterly woeful New Jersey Nets, partly because Jay-Z had bought a minority stake in them and partly because they were on their way to Brooklyn and a brighter future thanks to him). I had mostly fallen in love with the sport because of its obvious ties to hip-hop.
You would find me shooting the rock out there almost every afternoon and evening after work with Reasonable Doubt tracks like the sublimely cool Feelin' It and the absolute best Jig and Big duet on record (if not one of the finest team-ups in rap history) in Brooklyn's Finest, both driveway hoops staples. We lived next to a main road and I could blare those tracks at deafening volume without any repercussions. It was just heaven.
Can't Knock The Hustle was a slick and smooth introduction but Brooklyn's Finest was Jay-Z turning into Tony Montana, kicking down the door and gunning for anything that moved. It was rough and raw and just downright violent, with Biggie and Pac trading rapid-fire lines with Glocks blazing in the background. It sends shivers up your spine realising what might have been as far as collaborations between the two had B.I.G. not been tragically gunned down just a year later.
While I had Reasonable Doubt on near incessant rotation, I'd also managed to hook up with a girl I'd been crushing over for months, grown my hair to shoulder length and I had saved enough of my money and my leave to travel to the US- the first overseas trip of my adult life and one I was looking forward to immensely. It was that blissful period probably everyone experiences where technically they're an adult earning adult money and with adult privileges, but they're also still just a kid and able to do whatever the fuck they want without marriages and mortgages; where life really does feel like you have the 'top down screaming out money ain't a thang', as Jay-Z put it in Can't Knock The Hustle.
For all its bravado and swagger, that track saves Jay-Z's almost sobering message to his critics for the very end: He didn't get here the conventional way and had to break the law to do it, but the obstacles he had to overcome were put there by the rest of society. When, as he puts it, 'all us blacks got is sports and entertainment' the rest of the world has no business looking down on him, they 'can't knock the way a nigga eatin''.
The entire album is riddled with a similar underlying current of "Who are you to judge" defiance. It's particularly evident on the Nas-featuring Dead Presidents II (the genesis of their GOAT feud), subtly implying that only the dead Presidents on the money he makes are in any way representative of him. It was also present in his swift rebuke of less refined 'thug life' West Coast hip-hop artists in the deliciously clever 22 Two's: putting them on blast for 'clocking my spending', laughing that he's 'living heavenly' while they're committing 'felony after felony'.
Never has Jay-Z been closer to the Sinatra he's always claimed to be than on the slowburning jazzy epic, Can I Live, halfway through the album. Lamenting the exhaustion of his ascent from the hood, just wanting to be left in peace from the nightmares of what he has seen and done, a government trying to tax his newfound money, enemies and fake friends trying to steal it outright, forever having to live 'one eye open like CBS' – it was a stark reminder that even the greatest of personal triumphs have their pitfalls. The album-closing Regrets carried that theme over, Jay-Z memorialising a friend lost to the game before he came up. The two tracks were rare moments of vulnerability on a record all but bullet-proof.
Put the line sampling and heavy referencing from Al Pacino movies like Scarface and Carlito's Way into that context and you get the sense that Jay-Z drew a lot more inspiration from the characters in those movies than just their gunslinging and their kingpin image. Tony Montana and Carlito Brigante were men who scratched and clawed their way to the pinnacle of life through crime and evil deeds, only to fall all the way to the bottom as a result of ignoring their demons and their mistakes. On Reasonable Doubt, Jay-Z recognises that folly, and while he goes black and blue asserting himself as one of the new top players in the rap game, he isn't afraid to look down if it means he won't fall from where he's climbed to.
Perhaps the only rapper alive as titanic a cultural icon as Jay-Z; producer protégé, frequent collaborator and friend Kanye West might now be lauded as the wordsmith and a 'lyrical genius', but Jay-Z's early rhymes are not far off, often just as thought-provoking and intelligent, if on a more subtle level.
One of my favourite lyrics in the album is the final bar on D'Evils, where Jig spits 'Stop screaming, you know the demon said it's best to die/And even if Jehovah witness, bet he'll never testify'. Good. God. The entire song before that weaves a heaven and hell tale set in the hood, Jay-Z having rejected any notions of good or pure in pursuit of the luxuries that drive and possess him, culminating in Jay-Z's final words to one of his enemies. The bar may amount to little more than "Die like a man, nobody's going to save you", but the religious allusions he adds to communicate that same line are low-key earth-shattering.
And even if Kanye is recognised as the better lyricist, Jay-Z's flow and delivery leave Yeezy in the dust. Across the entire album it is just superb; always malleable to any beat, able to stop and start and stutter and switch lanes on a dime where necessary. Just when you think Hov couldn't make any more syllables fit into a bar, he damn near orders them to fit, and it's always for the better.
Across the entire record, he basks shamelessly in his riches, boasts of his status and his future, simultaneously laying bare his demons and staring into the gaping maw of his fears, all of it with the swagger, the confidence, the defiance and the fiery determination that would catapult him to the upper echelon of not just hip-hop, but the world today. Contemporary rappers like Rick Ross and everyone who's ever been within 10 feet of Young Money try to emulate that same approach, but none of them have or will ever come close to walking that line as well as Jay-Z did.
Back in 2011 when I first heard it, and across 2012 as I listened to it on repeat, I already knew in advance what Jay-Z had become after releasing Reasonable Doubt, this became a record that made me want to be a success. I may not "talk jewels and spit diamonds'"as Jay-Z put it on Cashmere Thoughts, and I may not have the "matching VCRs; a huge Magnavox" from Politics As Usual (because nobody does anymore), but at least I was free in both mind and spirit. That, in my mind, was success.
Reasonable Doubt may not have related to me in any way given that Jay-Z grew up as an impoverished African American kid in New York City and I was white, middle class and from a tiny rural Australian town having never committed a serious crime in my life. My successes compared to Jay-Z's would absolutely pale in comparison too, compounded even further by the struggles and adversity he had to go through to get there, but that record will nonetheless always represent to me one of, if perhaps not the happiest time in my life. The moment I thought I'd reached my own success.
It all culminated with me packing my bag and jetting to the US in September of 2012, where I had perhaps one of the Top 3 musical moments of my entire life in having the privilege of watching Jay-Z play live. In Brooklyn. In one of the first concerts held in the brand new Brooklyn Nets stadium, an arena that Jay-Z had helped to build.
Sitting in that crowd on my own, watching him play Can I Live and the people in attendance who were born and raised on Reasonable Doubt just losing their minds, screaming every word back at him, I had chills of a magnitude I'd never experienced. Here was Jay-Z, rocking the new Nets jersey he'd helped design and launch not even a week prior, maybe 10 minutes from the Marcy Houses where he grew up. He had come full circle. He introduced himself to the world on Reasonable Doubt emerging from the projects a braggadocious rap Don, and now he stood on stage in his hometown not even a stones throw from those same projects – a multimillionaire in what was basically his own arena, as a rap God.
If that isn't inspiration for you then I don't know what the fuck is.
It was an emotional night and I got caught in a moment I will never forget. Afterwards I met up with some friends and they took me around Brooklyn, including passing by the Marcy projects I'd spent years and just that night listening to Jay-Z talk and rap about. It was just surreal and truly amazing to be there.
I left New York and returned to Australia just a few days later, and in the space of about six months I had cut my hair, moved out of the house with the basketball hoop and the girl I had a crush on found someone else. Jay-Z sold his stake in the Nets and they got worse and worse after every season despite my emotional investment as a fan increasing exponentially.
Well fuck.
It's since been difficult trying to recreate the happiness of that one night in Brooklyn, maybe the high point of my entire life, but when I get down these days and want to remember just how good life can really be, I'll put Reasonable Doubt on in my car and bounce the whole way to wherever it is I'm going. I remember it as a record that reshaped my life and provided the soundtrack to some of the best years of it, with so many memories attached to it.
Listening to it now just makes me want to flip my own demons the middle finger and hunt for that same feeling of success I felt not even that long ago.