A socially conservative country made up of 99% Muslims is not exactly the first place you'd imagine a hardcore heavy metal festival flourishing. Yet earlier this month in Algeria, the festival Fest 213 brought together proud Muslim metalheads for a two-day concert that mixed traditional veils with leather and studded bracelets.
The Guardian reported on the event, sharing the intriguing, not to mention cultural significant event that took place in Constantine, saying the while the "government prefers to promote traditional music and events that bolster its Arab-Muslim identity," the day nevertheless went ahead, to the delight of thousands. Punters expressed joy in having the freedom to dress and enjoy the music they like in public. Considering one local TV channel described them as "devil worshippers", it's easy to understand why this was a significant event. These images of Muslim metal fans may seem incongruous to some. On its own, Islam has a tentative and often negative reputation in many parts of the secular world. Also on its own, many are equally wary of metal and its fans. So for those who look past the stereotypes on either side of this unique fence, it's an unlikely pairing. Algeria is an extremely conservative country, and metal is, well, extreme. Algerian and within the Islamic faith have trouble reconciling the idea of metal music and their own faith as well, with conservatives warning that the culture is damaging to the youth population.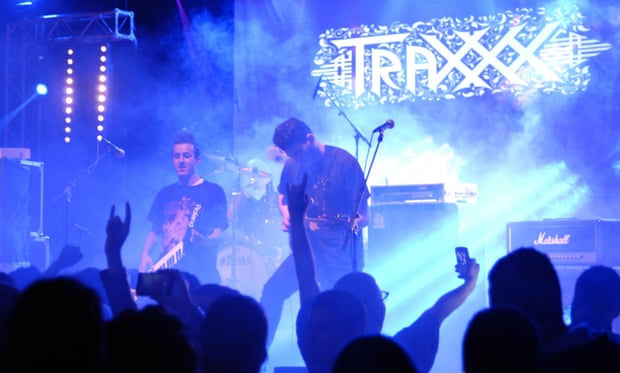 Just last year, the "devil worshipper" accusers broadcast an entire documentary about metal fans and black magic, with skulls and other imagery decorating the scene. Outraged, fans of metal hit back with the slogan "I'm a metalhead and a Muslim". Social media seems to be the current battleground, fighting calls for bands to change offensive lyrics – something that has occurred in Australia with rap music for years. Yet the festival kicked on regardless. Five bands hit the stage over the two days; Acyl, Arkan, Traxx, Fingerprints and Numidas performed to the small but dedicated legion of fans. The fact that this is an 'interesting' topic is a reflection of the problem itself. Why should one religious group be criticised for liking a type of music? The idea of a Muslim metalhead is fundamentally contrary, particularly when purported by conservative governments. Algerian cultural activist Malik Chaoui told The Guardian that the government are wary of diversity, choosing instead to support "cultural policies that aim to control thought."
It is interesting, exciting and progressive to see these two cultures collide, but it shouldn't be. Until this diversity of experiences is normalised, these stories are so important in reminding people from a non-Muslim background of this diversity.
It's an apt if obvious reminder, in a time when stereotyping of Muslims is becoming increasingly rigid in Western society, that Muslims, just like metalheads,  hail from a myriad backgrounds, occupations and passions. Why can't metal be one of them?