Gone are the days of hip hop stars having but one job title. Wikipedia any rapper today and you can almost guarantee they'll have some combination of rapper, songwriter, producer, entrepreneur and, a lot of the times, actor. As can be expected with most things in hip hop, there are both excellent and godawful examples of this. We're breaking them down into best and worst. We recently carved out the Mount Rap-More of Shitty Acting and we're finishing today at the other end of the spectrum, the finest rappers turned actors:
NB: Rap biopics like 8 Mile don't make the cut!
Snoop Dogg:
Say what you will about Snoop Dogg (we most certainly have), but he sits on this list as, not a transcendent, but a very competent actor. Pretty much all off the back of how perfectly he is used in movies.
Would Captain Mack in Soul Plane have been nearly as good had anyone else been in the role?
Was there a better casting choice for Blue, the wheelchair-bound drug dealer in the sensational Training Day? Snoop played that role as though it was his real life day job.
Was anyone else just born to play Huggy Bear in the Starsky and Hutch reboot the way Snoop was?
What makes Snoop in movies great is that they never try to over-extend him at all, he plays the same roles he's been playing on his rap records for three decades, although Mac And Devin Go To High School almost got him kicked off this list…
Will Smith
His rapping career may have been uh… not all that great, but the Fresh Prince is without doubt the most commercially successful rapper turned actor, paving the way for pretty much everybody else since. Bankrupt after unsuccessfully trying to pull an MC Hammer and evade the shit out of taxes from his partnership with DJ Jazzy Jeff, NBC picked up Smith to build the Fresh Prince of Bel Air sitcom around him.
From there it was blockbuster role after blockbuster role for Smith; a narcotics detective who blows lots of shit up in Bad Boys, a government-employed alien hunter in Men In Black, Earth's unoffical door-greeter who knows only the universal language of punches in Independence Day.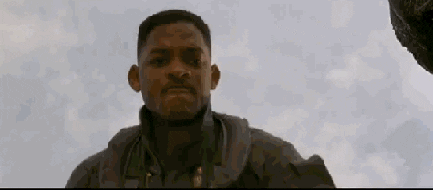 He did star in some pretty shit films too, including the tacky steampunk Western Wild Wild West and the low-key racist The Legend Of Bagger Vance, but he came roaring back in the mid-00s in films like Hancock, The Pursuit Of Happyness (for all the tears that movie has me in, that 'y' still makes me so very angry) and Seven Pounds.
His only mission now is to find a successful vehicle for his son and the living avatar of nepotism, Jaden, having failed with the Karate Kid reboot and the M. Night Shyamalan helmed After Earth (twist ending: it was shit). Catch him as Deadshot in the upcoming Suicide Squad film.
Mark Wahlberg
I don't care if you don't really count Mark Wahlberg as a rapper, you clearly don't appreciate the absolute joy that was Good Vibrations and you're probably a sack of shit anyway. Watch him rip the Arsenio Hall Show a new one and then FOH.
After a troubled childhood and adolescence that saw him jailed after a pretty abhorrent racially-motivated assault on a middle aged Vietnamese man, Marky Mark cleaned up his act, got himself a Funky Bunch and then proceeded to an acting career launching off of his good looks and physique.
He had a turn as Mickey, Leo DiCaprio's equally-troubled friend and teammate in the harrowing The Basketball Diaries before busting out starring as pornstar Dirk Diggler in the cult classic Boogie Nights. From there he enjoyed roles in a number of huge budget blockbusters, including Three Kings and the Planet Of The Apes franchise.
He's at his best playing blue-collar Bostonians though. He was utterly fan-fucking-tastic as the foul-mouthed Sgt. Dignam in the Scorcese masterpiece The Departed (see above) and similarly killed it in The Fighter, being nominated for a Best Actor Golden Globe in the process. Lone Survivor was also magnificently nailbiting.
He's also shown that he isn't limited to only serious roles, with pretty superb comedic roles in Ted and perhaps one of my favourite comedic pairings of all time with Will Ferrell in The Other Guys.
Marky Mark definitely made the right career move, and we are all better for it.
Puff Daddy
I don't know what he's referred to now, whether it's Diddy or P. Diddy or whatever, I just know that I'll always know him as Puff Daddy, because that name sounds infinitely more badass than anything he's had since.
I can only show you those clips from Get Him To The Greek because it's honestly been the only good movie he's been in, but, so amazing is his time on screen, that it is enough to land him on this list for me, I laughed my dick off in every scene he stole. His role as an agent in the sports logic-defying Draft Day should be stricken from the record though, but damn, give Sergio a spinoff movie, immediately.
Tupac Shakur
Ah, what might have been. Perhaps one of hip hop's most charismatic figures. Insanely talented as a lyricist, a storyteller and yes, an actor. He starred as Roland Bishop in the beautifully violent Juice and absolutely wrecked it as Birdie, the primary antagonist in the ball-is-life drama of Above The Rim.
Had Pac's life not been cut short so tragically, I have no doubt in mind he would have gone on to have an absolutely mesmerising career as an actor. The talent was all there, fate simply had other plans.
Ice Cube
I've saved Cube for last because he might be my favourite rapper-turned actor, ever. He had 12-year-old me almost bust a rib alongside Chris Tucker in the original Friday. He was great as Fudge alongside Omar Epps in the coming-of-age drama Higher Learning. He was perfect as Staff Sergeant Elgin in the aforementioned Three Kings. He was a rare highlight in a film full of shit as the cameraman in Anaconda.
Even starring in absolute stankers like Are We There Yet, xXx2: The State Of The Union and the reprehensible Dangerous Grounds don't diminish what he's done. The hardest I laughed in the two 21 Jump Street movies was when Cube was onscreen. This exchange had me on the floor of the cinema.
As did his thoughts on Korean Jesus.
He's just so believably angry, all of the time. Similar to Snoop, he seems to only find himself in roles that suit him perfectly, hence his success. Far and away his finest performance though was his first, in the absolutely amazing Boyz-n-the-Hood.
If you've never seen this movie you need to shut your mouth right now and go and watch it. I'll wait. It's absolutely fantastic, capturing hood life in Los Angeles when the city was perhaps at its most volatile. Cube's character of Doughboy is iconic, multi-layered and so complex. And Cube hands down nails it with an absolutely gripping performance because he's already lived it. Just stunning.